This recipe for Cherry Clafoutis is from the July 2019 article: Seasonal Summer Dinner
Print
Cherry Clafoutis with Lemon Honey Crème Fraiche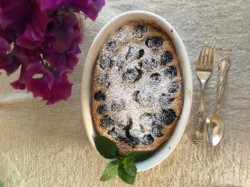 Clafoutis are a very simple dessert that can be made with almost any seasonal fruit.  It is most famously made with cherries and since they are in season right now (July in California) I wanted to bake with them.  Pitting cherries is a messy job, so feel free to cheat by using thawed frozen pitted cherries. I hope you enjoy cherry clafoutis.
The pan is buttered and coated with ground almonds and sugar.  I like using large grained brown sugars like turbinado, but granulated sugar works well too.  Serve Clafoutis slightly warm or room temperature.
Clafoutis
2

T butter, room temperature

2

T turbinado or other large grain sugar

2

T almond flour, or ground almonds

2

C pitted cherries

3

eggs, room temperature

¾

C sugar
Lemon Honey Crème Fraiche
½

C crème fraiche

1

T honey
t lemon zest
Instructions
Heat the oven to 350F
Generously butter an 8" or 9" gratin.
Coat the buttered pan with the turbinado sugar and almond flour.
Evenly distribute the cherries in the gratin.
In a medium bowl whisk together the eggs, sugar, and flour until smooth.
Combine the cream, salt, vanilla, and almond extracts and whisk into the flour mixture in a thin steady stream.
Spoon the batter over the cherries and bake until the clafoutis is set and golden, about 40 minutes.
Dust with powdered sugar right before serving.
Notes
Save the cherry juice from the clafouti and used it to create an aperitif with champagne! 
Keywords: Dessert, Brunch, Seasonal, Honey, Cherry, Crème Fraiche